Wind and Rain Interior
"Interior Wind and Rain" features 180 minutes of carefully selected wind ambiences in 41 separate files. Recorded over a five-year period in various indoor locations.
This library includes sounds of wind blowing through window cracks, wind howling under doors, storms whipping around an attic, blustery wind with squalls of rain pelting against window panes, and strong wind from inside cars.
The sounds are taken in very quiet rooms and almost free of birdsong. Recorded using Schoeps MK4/MK8 MS microphones and paired with a Sound Devices 702 recorder, the files are also embedded with detailed Soundminer Metadata.
If you're designing a stormy scene in a domestic setting, this is the library for you!
41 sound effects (track list)


96kHz/24bit stereo WAV files

6,5 gigabytes / Approx. 180 minutes total

Includes full Soundminer Metadata (19+), BWAV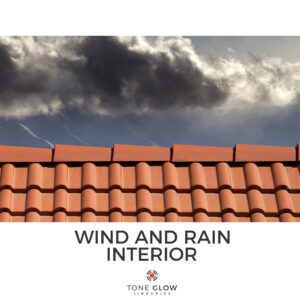 WIND AND RAIN INTERIOR
Categories: Wind
41 sound effects / 180 min
24 Bit / 96 kHz • 6.5 GB
Includes full Soundminer Metadata, BWAV
Microphone
Schoeps Mk4/Mk8 MS
Recorders
Sound Devices 702