Inside Bridges
This library gets you very rare sounds from the inner sound of bridges.
Recorded inside of two differnet box girder bridges, this collection features deep metallic thuds from traffic above, metallic creaks of steel and iron, low rumble and eerie atmospheres.
Recorded using Schoeps MK4/MK8 MS microphones and paired with a Sound Devices 702 recorder. All files in this collection use the Universal Category System (UCS) and are tagged with detailed metadata.
Sounds includes:
Interior sounds of box girder bridges, Elevator shaft inside a bridge pylon. Elevator ride and sounds from the stairwell, Wind and distant traffic from the top of a bridge pylon, Sounds under a bridge with metallic rattling caused by traffic above it.
Features:
• 30 sound effects / 30 Files
• 96kHz/24bit stereo WAV files
• 3,5 gigabytes / Approx. 103 minutes total
• Includes Soundminer Metadata, UCS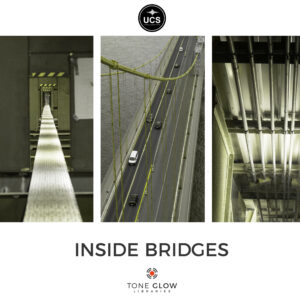 INSIDE BRIDGES
Categories: Underground
30 sound effects / 103 min
24 Bit / 96 kHz • 3.5 GB
Includes Soundminer Metadata, UCS
Microphone
Schoeps Mk4/Mk8 MS
Recorders
Sound Devices 702